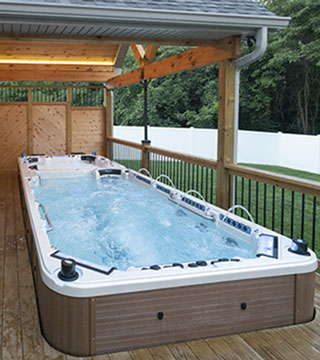 Exercise Spas Starting at $10,995 Home of the Original Swim Spa
Aqua Living Factory Outlets is home of the original swim spa and the only manufacturer to offer the proprietary AnyTemp® Hot and Cold Spa System. This revolutionary invention allows you to control the temperature of your spa in any type of weather and any type of climate. With our AnyTemp® System you can enjoy daily hydrotherapy, exercise, training, or swimming outdoors year-round – cooling your spa even in desert heat and warming it when the temperatures dip.
Proudly Made in the U.S.A.
Aqua Living Factory Outlets is one of the largest maufacturers of swim spas in the world and proudly produces Catalina Swim Spas. Catalina has been building swim spas since 1980 – longer than any other manufacturer in the world.
Read this article on "How Much is a Swim Spa?"